European countries have distinctive employment law frameworks, but the basics stay pretty much the same (e.g. working time). The differences are visible in overtimes, vacation entitlements or additional leaves. Countries in central and eastern Europe are still very interesting for investors and corporations, that keep focusing on these locations with high expansions.
We have compared the working time, vacation entitlements and the true cost of an employee in selected European countries. Download these statistics for free in a simple infographic.

The infographic on labour law aspects is a summary of chosen working aspects in the Czech Republic, Hungary, Poland, Romania, Slovakia and Ukraine.
* The exact conditions under which overtime can be performed, as well as the exact periods of time (per week, month or year) are specified in each country's Labour Law.
** CZ – Overtime can be increased up to 416 hours/year if agreed with the employee.
*** HU – Overtime can be increased up to 400 hours/year.
**** PL – Overtime can be increased to 416 hours/year.
***** SK – Overtime can be increased up to 400 hours/year (employee consent needed).
Proportional to the worked period.
Vacation entitlement ("working" days/year)
Additional leave ("working" days/year)
* CZ – Employees are entitled to 4 weeks of vacation in a calendar year. The law defines the entitlement to additional leave for certain demanding professions (in the length of the specified weekly working hours).
** PL – 20 days – if an employee has been employed for less than 10 years, or to 26 days if an employee has been employed for at least 10 years; 2 days/year/child for parents. It is planned to change the regulations, then an employee will be entitled to 26 days of vacation leave regardless of the length of service (the date of changing the regulations in this regard is unknown).
*** RO – The law defines the entitlement to additional leave for certain categories of employees (e.g. employees working in difficult/harmful conditions, disabled employees, young people under the age of 18 etc.).
**** SK – 25 working days for employees who are 33 years old or older, or employees who are permanently taking care of a child.
The true cost of an employee
How much does it really cost to employ someone? There is a lot to be considered, since it is not just about the salary. There are costs related to recruitment, employee benefits, payroll, taxes, insurance, retirement benefits, performance bonuses, specifics of an industry and many more.
For example, did you know that in Romania there is a disability tax fund, payable by companies with at least 50 employees, if at least 4% of these employees are not people with disabilities (the fee is determined by the number of employees and the minimum wage provided by the legislation in force)?
To simplify the comparison, we calculated the costs (salary and other taxes) for the standard employment conditions in a scenario where a company pays EUR 1000 NET salary to an employee (no meal tickets, no children, full time, excluding all the exceptional benefits).
The Czech Republic
1 621 EUR
Do you find the statistics useful? Keep them close by downloading the infographics for free.
No need to more than just providing your e-mail and we will send you the infographics.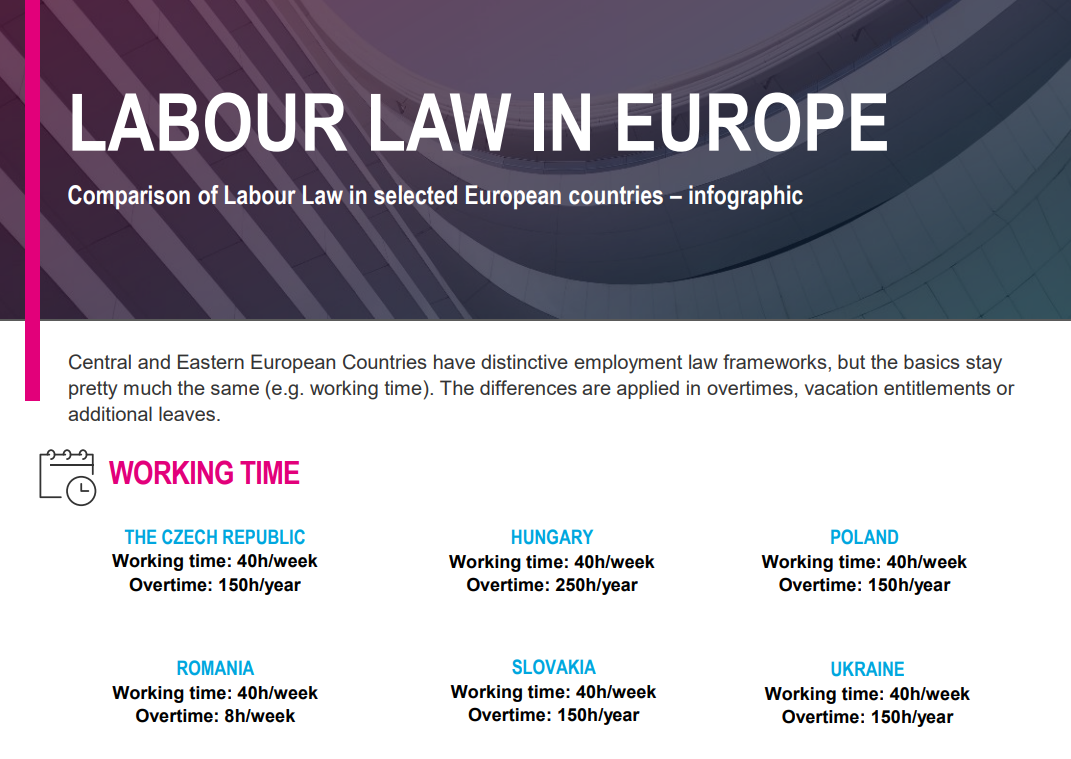 STAY IN THE LOOP
Subscribe to our newsletter to receive the latest news right into your inbox.
Soňa Výhonská
Marketing Manager
Digitization of HR and accounting under one roof in the TULIP cloud platform
Which company processes can be fully digitized to TULIP?