There are no upcoming events.
Time and attendance management system for retail – webinar
TIME & ATTENDANCE MANAGEMENT IN RETAIL
What is the standard in retail attendance and how can it be easily managed in cloud system?
HOW TO MANAGE ATTENDANCE IN RETAIL STORE?
Retail industry has to cope with specific employee attendance, so it's not easy for companies in this business to find the right time and attendance management system to fulfil their needs.
To name a few key differences of retail attendance:
Specific divisions to stores, regions, headquarters

Shift scheduling – with emphasizing flexibility of shift planning with ad hoc changes needed from store manager

Huge headcount proportion of seasonal workers, students and part-time workers

Significant fluctuation of employees
Yet this industry keeps getting deeper and deeper involved in digital revolution. That's why in TULIP, we have approached the industry and have developed features in the platform that will cover retail time and attendance to the last point.
Come to the webinar where we will show all key features of TULIP's time and attendance module adjusted for retail segment.
When?
15 March at 14:00 (CET), Zoom
SPEAKER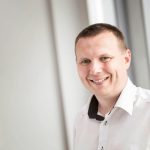 Viktor Mečiar
Having a thorough experience in the management of ERP implementation projects in various European countries, Viktor's expertise reaches beyond regular IT agenda. His previous job was the position of Group IT Manager in Accace. The project management and leadership of large-scale employee and manager self-service portal implementation projects fell under his agenda for our global clients. During these years, he has also been actively involved in the development of innovative solutions for BPO, establishing a complete support team of professionals and creating TULIP, a unique international cloud platform for business processes.
Currently, he is one of the partners of Accace and the Managing Director of TULIP Solutions s.r.o.
Viktor acquired his Master's degree in Applied Informatics in 2004 at the Faculty of Informatics, Masaryk University in Brno, Czech Republic. He is fluent in both Slovak and English language.
REGISTRATION
Webinar is free of charge. We just need you to fill the registration form to be able to send you Zoom link. In case of any questions, contact us via sona.vyhonska@tulipize.com
STAY IN THE LOOP
Subscribe to our newsletter to receive the latest news right into your inbox.