Track and schedule your time and attendance in Slovakia with TULIP, a convenient cloud solution with self-service access. Let your employees, team leaders and HR administrators manage their working time, approve absences, keep track of their attendance and take care of individual or team work scheduling through a customised online interface.
BUILT-IN COMPLIANCE WITH SLOVAK LEGISLATION
Allow yourself a piece of mind that you are fully in line with the statutory framework when governing the time and attendance evidence of your employees in Slovakia. TULIP, the online attendance system, is in strict compliance with the Slovak legislation by default, thanks to our local team of experts who support the maintenance of the system according to local specific requirements and guarantee that your attendance management aligns with the ever-changing labour law, payroll, tax and social security legislation or GDPR rules.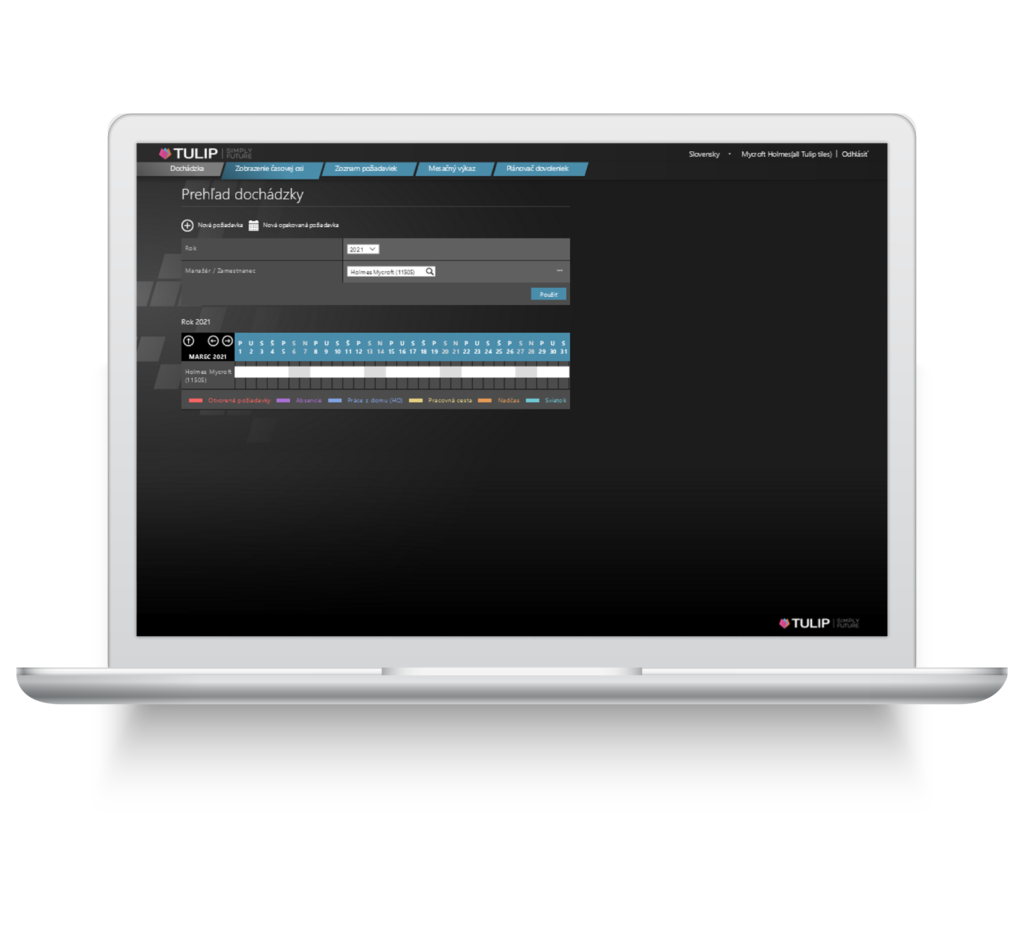 FACTS AND FIGURES ABOUT WORKING TIME IN SLOVAKIA
WORKING HOURS PER WEEK
It is also possible to agree on an uneven distribution of working time with the representatives of the employees.
standard working schedule
three-shift system or continuous operation
TIME OFF AND VACATION DAYS
STEP UP YOUR TIME & ATTENDANCE BY SWITCHING TO TULIP
AS AN EMPLOYEE
Free yourself with the self-service
Track your absence requests in your personal calendars and have them approved by your supervisor

Manage your individual vacation plans and record your actual working time in a shared calendar

Manage your payslips and other HR documents in a secure cloud archive

Access your personal profile over a user-friendly interface

AS A MANAGER OR TEAM LEADER
Gain complete overview and better control
Manage your personal attendance, delegate your tasks and process approvals during your absence

Plan your team's attendance and work schedules with an interactive calendar allowing cross-month or cross-year planning and see who is available

Stay notified on absence requests and changes with emails

Manage your workflows across multiple countries, with custom setups and calculation periods

AS HRM OR HR ADMINISTRATOR
Stay updated and take well-informed decisions
Unburden yourself from keeping track with ever-changing attendance related legislation – rely fully on our support by keeping the system up-to-date

Keep track of all the data and actions taken, revise time sheets and changes made by employees, team leaders or managers

Get access to all time and attendance, HR and payroll data, updates and reports anytime you need them

Benefit from an error-free payroll calculation thanks to automated T&A data integration in your payroll system

Easily handle your tasks related to work time, attendance management, HR administration or payroll data within one cloud platform
INTUITIVE INTERFACE TO MANAGE YOUR ATTENDANCE IN SLOVAKIA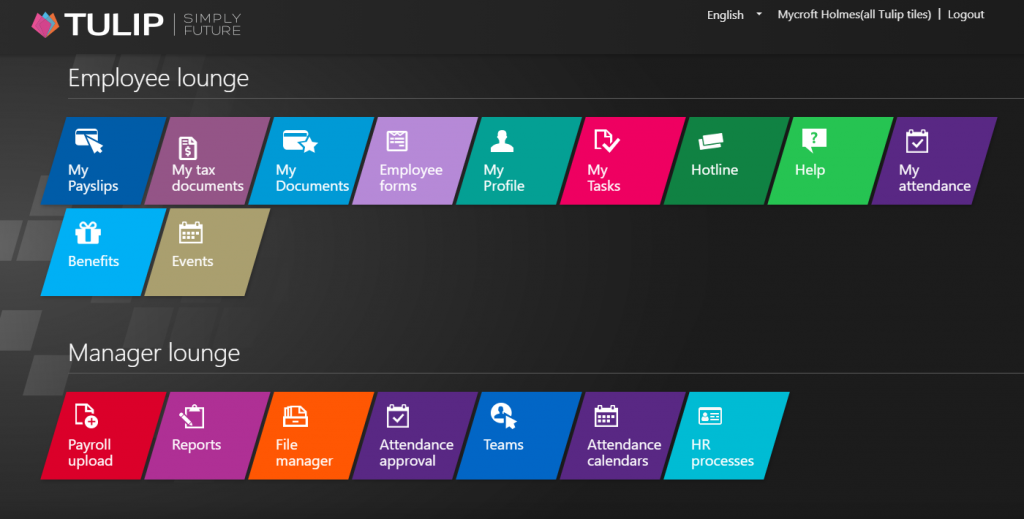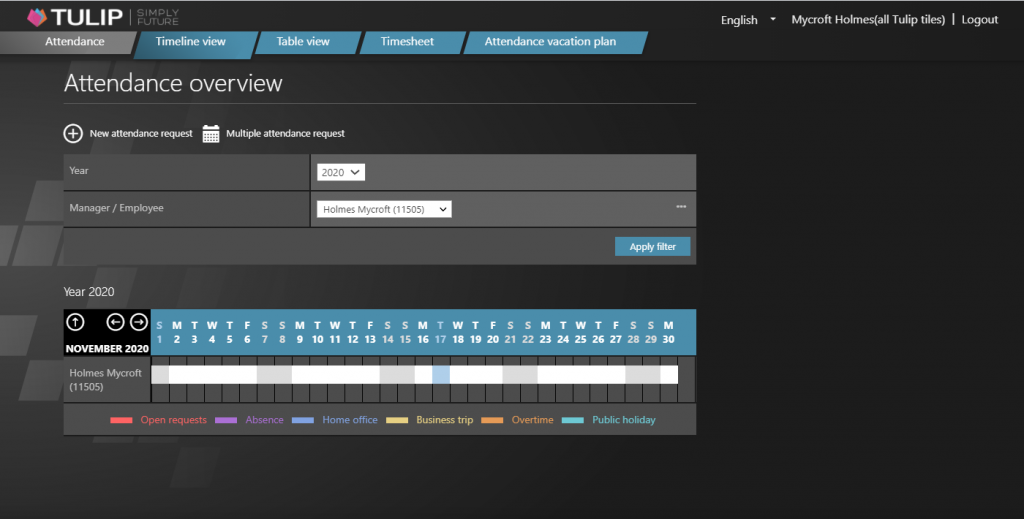 CHOOSE TULIP T&A IN SLOVAKIA – AND GLOBALLY
As a global cloud attendance solution, TULIP allows you to handle your time and attendance under one roof, no matter whether your employees are seated in Slovakia or scattered across the globe. TULIP time and attendance management system ensures that all your divisions are managed through a single unified platform, allowing you to simplify and streamline employee attendance and reporting across your multiple locations and jurisdictions.
Built-in compliance with local legislation
Evaluate and settle your payments for overtime, stand-by, night shift, time-off and beyond, in full compliance with the labour law, GDPR and payroll regulations
Unlimited possibilities of customization
Adjust the cloud solution completely to your needs and benefit from different working systems, shifts, schedules, calculation periods, payroll reporting and anything specific to your organisation
Multilingual interface
TULIP allows you to switch between multiple languages, allowing your employees to access their attendance data in a preferred language they are comfortable with
Seamless implementation
TULIP refrains from using biometric tracking or ID card terminals, unburdening you and your IT department from software or hardware installation