Do you want to find out the degree of cohesion, satisfaction, trust and innovation of employees in your company, the overall corporate atmosphere within the organization, as well as other indicators concerning the social potential of your organization? Measure these values with SocioRating. Unique concept to discover your real status within your own teams. We participated in the measurements and received the highest rating A+.

Humbly, yet proudly we took the results, by which TULIP was evaluated highly by the employees in all rated aspects: innovation, trust, satisfaction and cohesion.
The questionnaires were filled in by 96 % employees.
The whole study resulted in A+ certificate, which evaluates the company with this definition:
Excellent – the organization achieves very good results in all areas of the identification process, in its approach to innovation, in terms of satisfaction, responsibility and trust. It is a company with strong social potential. The employees strongly identify with the organization, understand its goals, identify with its direction and are willing to work towards achieving the goals.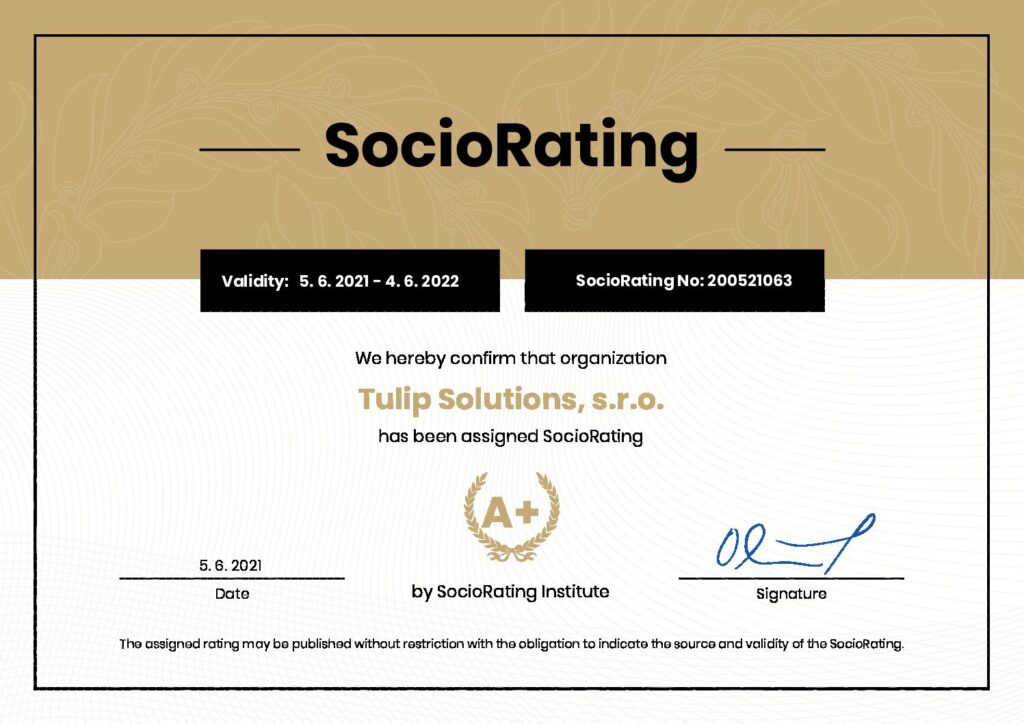 SocioRating is a universal methodology which allows organizations to be benchmarked – regardless of size or sector, thus setting an international standard of measurement for the social aspects of organizations. It is able to quickly and effectively identify possible problems in the setting of corporate culture, and consequent effects on overall company operations.
If you want to measure how your employees identify with your institution's goals and social aspects, contact SocioRating:
STAY IN THE LOOP
Subscribe to our newsletter to receive the latest news right into your inbox.