We are proud to support conferences that open up discussions on business innovation within the CEE region. As a sponsor of the "Cloud for business" conference, we had a chance to present TULIP's Time & Attendance module and discuss the future of cloud computing with other Slovak providers.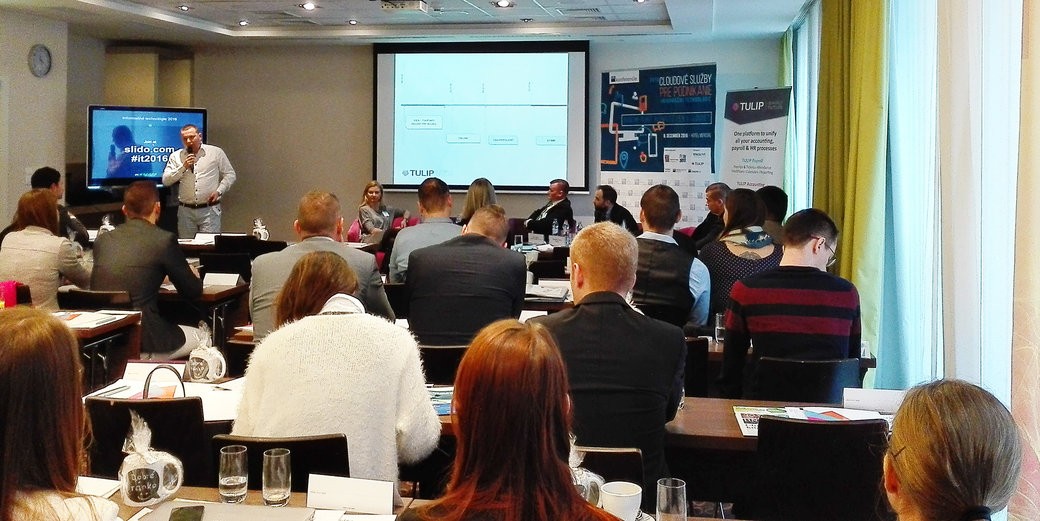 The conference was hosted by Hospodárske noviny at the Mercure hotel in Bratislava. Approximately 60 professionals and managers listened to 3 blocks of cloud computing presentations. The blocks focused on:
How cloud services work
Cloud services for business
The Safety of cloud services, The Cloud within Slovak and European legislation
The first block went back to the roots – explaining the cloud and answered some important questions that customers might ask – Is it better to rent or to own a cloud solution? What the different types of cloud computing are and which one best suits my company?
A very interesting insight into cloud computing from a customer's point of view was given by Miroslav Pikus from Slovak Telekom. He presented a case study of their own cloud migration and highly recommended it to the audience.
Cloud services for business
The TULIP presentation was part of the second block. Our Managing director Viktor Mečiar spoke about Time and attendance in cloud, It's one of the most popular activities that customers often move over to the cloud. We surprised the audience with the fact, that many big international companies had previously used excel sheets before they moved to more sophisticated solutions like TULIP.
All of the presentations tried to help customers on deciding which kind of cloud solution is best for their business. There was never simply a question 'if to use the cloud', It's because we all know that it's not possible to avoid it. Almost every company is now using the cloud in some way and they have to, if they don't want to be overtaken by the competition and also move forward in their business development.
The safety of cloud service
The third block was about something that cloud providers have found beneficial. Slovak and European legislation is something that we deal with every day when supplying our services. Learning how to solve certain crucial issues from legal experts was extremely helpful.
The conference showed that there are many good cloud companies within Slovakia already and that customers are generally very satisfied with them. But there is still some scope to educate firms further about the value and safety of cloud solutions. Slovak companies will need to develop trust in them to go full steam ahead into the cloud. But one important thing to remember – the cloud won't solve your problems if the processes or architecture of the company are incorrect.
STAY IN THE LOOP
Subscribe to our newsletter to receive the latest news right into your inbox.
Attendance management in the cloud
All information about contemporary absence management via a legislation-compliant cloud platform